Why Use a Home Hearing Loop?
Hearing Aids provide improved access to sound sources within the home, but following fast paced speech on television or enjoying music in a noisy home setting can still be challenging for many hearing aid users. Simply turning up the volume is not always a solution as this can disturb neighbors or make things uncomfortably loud for other listeners. Captioning can help with movie and television dialogue but requires additional concentration and is not always accurate. Headphones can provide a way to listen at higher volumes without disturbing others, but also effectively cut the user off from conversation and prevent them from hearing important environmental sounds such as the doorbell, telephone, or smoke alarm. If you are struggling to get the most from your audio devices then a home hearing loop could provide the solution.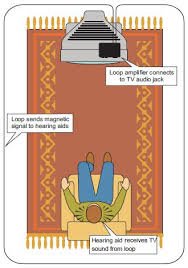 How Home Hearing Loops Can Work for You
Home Hearing Loops allow hearing aid and cochlear implant users to receive audio signals at a volume to suit themselves. The audio signals are broadcast wirelessly to their own hearing aids without the need for bulky headsets and tethered by wires. Most modern hearing aids can be programmed to work with a hearing loop and many provide the additional option of listening to a mix of sound from the loop and the hearing aids built in microphones, delivering clear sound from the television or other audio source without cutting the user off from those around them.
For households with more than one hearing aid user, everyone can use the same loop system to listen at their preferred volume without the need to purchase additional equipment. Home loops can be used with any home audio device, including:
Televisions, VCRs, DVRs and Blu-Ray players.
Radios, MP3 players and Hi-Fi systems
Computers, Laptops and video game consoles
Telephones and answering machines